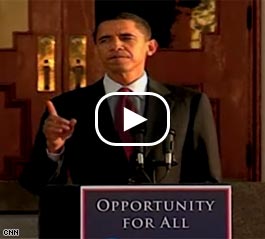 Watch a clip of Sen. Obama's speech in South Carolina Friday.
(CNN) – At the end of a week where Sen. Hillary Clinton, D-New York, made her most direct references yet to the historic nature of her presidential campaign, Sen. Barack Obama, D-Illinois, spoke Friday about being black and mounting a serious campaign for the White House.
Speaking from the steps of a historic courthouse in Clarendon County, South Carolina where one of the lawsuits which ultimately led to the desegregation of America's schools was filed more than 50 years ago, Obama tied his presidential run to the black community's fight for civil rights.
Obama told the crowd he'd heard people say, "'Ya know, we're just not sure that America's ready for an African-American president.'"  "You've heard that before. You've heard the same voices you heard fifty years ago," Obama said.
"So, I just want ya'll to be clear. I would not be running if I weren't confident I was going to win," he said. "I'm not interested in second place," he added.
"We are tied up in Iowa right now. And, let me tell you there aren't a lot of folks in Iowa that look like me," said Obama. "And, we're doing just fine."
Obama also took a shot at President Bush.  Talking about the importance of education in his own life, Obama said, "I wasn't like the President George Bush – born with a silver spoon in my mouth. My daddy wasn't President of the United States," the Illinois Senator told the crowd.  "I had to work and get an education and get scholarships to get ahead."
Click here to see CNN's new political portal: CNNPolitics.com
- CNN Associate Producer Martina Stewart