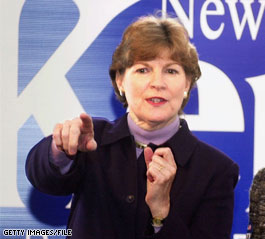 Shaheen steps up for the environment.
CONCORD, New Hampshire (CNN) – At a climate change rally held outside the statehouse, former Gov. Jeanne Shaheen called for a renewed commitment to protecting the environment.
"Our quality of life is being affected by our failure to address global warming," said Shaheen.
Shaheen discussed how climate change had already made a "tremendous impact" on the Granite State's tourism industry and pointed to shorter snowfalls, changes in fall foliage and decreased maple sugar production.
Shaheen who is running for a U.S. senate seat in 2008 stated she would seek to reduce pollution that causes global warming and set an 80 percent reduction goal by the year 2050. Her plan includes economy wide emissions reduction, aggressive research and development and incentives for citizens to conserve.
Click here to see CNN's new political portal: CNNPolitics.com
–CNN New Hampshire Producer Sareena Dalla