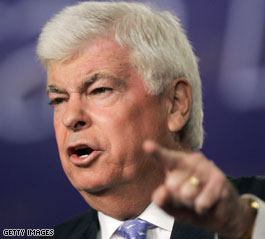 Dodd spoke about the environment Saturday.
CONCORD, New Hampshire (CNN) ­ Climate change advocates withstood heavy rains and crisp winds to hear Sen. Chris Dodd call for "Earth Day" year round.
"It takes leadership that can truly make this an issue not just on 'Earth Day' but every single day that you're in the White House," the Connecticut senator said.
Top on Dodd's environment agenda are a corporate carbon tax and reduced dependency on foreign oil. Dodd called U.S. dependence on oil "dangerous," and said a carbon tax was a step towards independence.
"We don't want to borrow a billion dollars every day as we do to buy foreign energy," Dodd said. "Politics is always about choices."
Click here to see CNN's new political portal: CNNPolitics.com
–CNN New Hampshire Producer Sareena Dalla