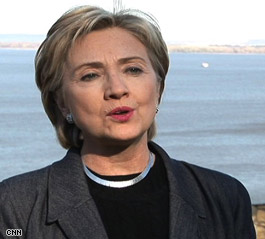 Sen. Clinton took questions from reporters Sunday along the Mississippi River in Clinton, Iowa.
CLINTON, Iowa (CNN) – Sen. Hillary Clinton, D-New York, told reporters Sunday that her Democratic rivals are attacking her simply because, as she said, she's "winning."
Clinton was asked about an essay written by Kate Michelman, a senior adviser to the campaign of former Sen. John Edwards, that criticized the New York senator for what she called "disingenuously playing the victim card" by bringing up gender in recent stops and emails.
"I don't think they piled on me the other night because I'm a woman," Clinton said. "I think they piled on because I'm winning. And that's what happens."
Clinton has been using the phrase "piling on" ever since Tuesday night's Democratic debate where her opponents took various opportunities to draw contrast with her over issues like her vote to authorize the war in Iraq, her vote in support of labeling the Iranian Revolutionary Guard a terrorist organization, and whether or not she's stated clearly enough her position on New York Gov. Elliot Spitzer's plan to give illegal immigrants driver's licenses.
-CNN Iowa Producer Chris Welch