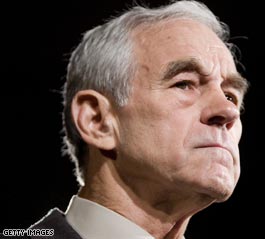 Rep. Ron Paul has surprised pundits and his rivals with his fundraising.
WASHINGTON (CNN) – Presidential campaigns and supporters use all sorts of gimmicks to try and raise money, such as celebrating birthdays, winning a chance to dine with a candidate and marking November 5 as an anniversary.
Huh? November 5?
Supporters of Rep. Ron Paul's presidential bid are using this date to help boost the Texas Republican's campaign coffers, in what is being described as a massive grassroots on-line fundraising drive. The significance? Well, in English history a gentleman by the name of Guy Fawkes tried to blow up Houses of Parliament, which was the subject of the recent film "V for Vendetta."
One of the leaders behind the Paul fundraising drive said the message is not violent, but rather a fundraising idea that spread virally on-line. Paul's presidential campaign said the idea did not come from the Texas congressman, but they are promoting the progress of this fundraising drive. As of late Monday afternoon, the Paul campaign claims it raised over $2.7 million, a figure that cannot be independently confirmed until Federal Election Commission reports are filed at the end of the year.
Paul, who is registering in the low single digits in most polls, raised $5 million in the third quarter fundraising period.
Related video: Ron Paul's fundraising shocker