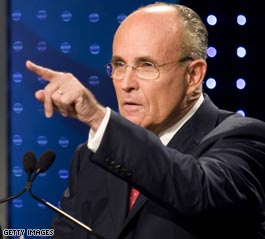 Rudy Giuliani continues to lead the Republican presidential race.
WASHINGTON (CNN) - In the Republican presidential race, former New York Mayor Rudy Giuliani continues to be the leading candidate, with the backing of 28 percent of the Republican primary voters polled. Former Sen. Fred Thompson of Tennessee was backed by 19 percent. Sen. John McCain of Arizona was the top pick of 16 percent, and former Massachusetts Gov. Mitt Romney had 11 percent.
Of the remaining Republican candidates, former Arkansas Gov. Mike Huckabee received 10 percent, Texas Rep. Ron Paul 5 percent, California Rep. Duncan Hunter 4 percent and Colorado Rep. Tom Tancredo 3 percent.
The poll involved telephone interviews with 397 Republicans or independents who lean Republican. The poll's margin of error was 5 percentage points.