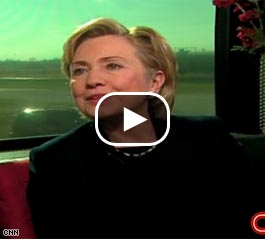 Watch Sen. Clinton's entire interview with Candy Crowley from CNN's Election Express Tuesday.
NEWTON, Iowa (CNN) - Democratic presidential frontrunner Hillary Clinton told CNN Tuesday her performance may have been lacking at last week's presidential debate, but brushed aside criticisms she has not been clear on where she stands on the issues.
"I wasn't at my best the other night - we've had a bunch of debates and I wouldn't rank that up in my very top list," Clinton told CNN's Senior Political Correspondent Candy Crowley during an exclusive interview on board the Election Express in Newton, Iowa. "But I've answered probably, I don't know, more than 5,000 questions over the last 10 months and I have been very clear about where I stand and where I want to do for'the country."
Clinton came under intense criticism from her Democratic opponents during and following a debate last Tuesday in Philadelphia when she appeared to evade a question about New York Governor Eliot Spitzer's policy of offering driver's licenses to illegal immigrants.
"I understand the necessity for criticism, Clinton continued, "we're getting toward the end of a very long presidential primary process."
Click here to see CNN's new political portal: CNNPolitics.com
–CNN Ticker Producer Alexander Mooney