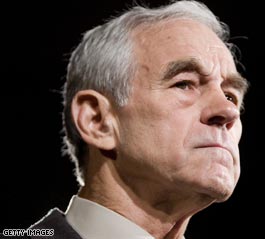 Monday proved to be a very lucrative day according to the Paul campaign.
WASHINGTON (CNN) – Rep. Ron Paul raised more than $4 million on the Internet Monday from more than 35,000 donors, a spokesman for the Texas Republican's presidential campaign told CNN.
Online supporters of the Texas congressman organized the fundraising push around Guy Fawkes Day, the November 5 holiday that marks Englishman Guy Fawkes' foiled attempt to blow up the Houses of Parliament in 1605, subject of the recent film "V for Vendetta."
The creator of the Web site that pushed the Paul fundraising drive said the message is not violent, but rather a fundraising idea that spread virally on-line. The Texas congressman's spokesman said the idea did not come from Paul, but he did promote it in recent speeches.
Paul is the only Republican candidate who is calling for the removal of U.S. troops from Iraq. He also advocates for limited government and is anti-abortion rights. While Paul registers in the low single digits in most polls, he raised a very respectable $5 million in the third quarter fundraising period.
Related video: Ron Paul's big haul
Click here to see CNN's new political portal: CNNPolitics.com
- CNN's Eric Weisbrod, Abbi Tatton, Alexander Mooney, and Katy Byron