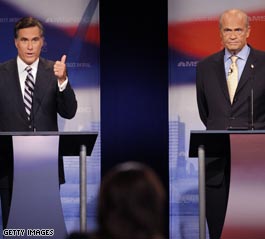 Romney and Thompson faced off at Thompson's first debate appearance with the Republican field.

FORT MILL, South Carolina (CNN) - Former Tennessee Sen. Fred Thompson accused former Massachusetts Gov. Mitt Romney Tuesday of trying to buy his way into the hearts of South Carolina's Republican primary voters.
"Apparently a lot of people think if they spend a lot of money they can put a little different cast on things," Thompson told a crowd of supporters in this town near the North Carolina border. "Now, the governor of Massachusetts has apparently spent $20 million dollars of his own personal fortune, and apparently a good chunk of that in South Carolina. All I got to say is: governor, you can't buy South Carolina. You can't even rent South Carolina."
Romney has built up a considerable ground game in South Carolina and hired some of the state's top political consultants. He is also the first and only Republican running television ads in this state.
"Support from voters is earned though hard work and new ideas. Unfortunately for Fred Thompson, he has never shown any passion for either," Romney spokesman Kevin Madden said Tuesday, responding to Thompson's comments.
"Governor Romney is working hard across South Carolina to build a great team of supporters that continues to grow. His support is the result of reaching out to voters and showing them that he has the vision the experience and the values to lead America. The governor is going to keep holding the town halls, continue his travels all over the state and he's going to keep talking about his plan to bring conservative change to Washington," Madden added.
Thompson, who tackled the flashpoint conservative issues of illegal immigration and gay marriage in his speech, suggested Romney has shifted his positions to suit the temperament of conservative, Southern voters.
"If there's one thing I want the people of South Carolina and the people of Tennessee and the people of this country to say about Fred Thompson when this is over with, is that no matter what, where he stands does not depend on where he's standing at any given time," Thompson said to applause. "Where I stand is where I always stood."
He added, "Fred is Fred. That ain't gonna change."
- CNN South Carolina Producer Peter Hamby