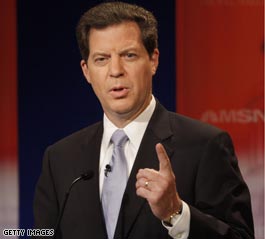 Sen. Brownback has decided to endorse John McCain instead of Rudy Giuliani.
WASHINGTON (CNN) - Sen. Sam Brownback, R-Kansas, will endorse Sen. John McCain, R-Ariz., for president, CNN has learned.
The endorsement will come Wednesday when the Brownback and McCain appear together at a McCain campaign event in Iowa, a McCain campaign source and Republican Party sources told CNN's John King.
Brownback gave up his own bid for the White House last month, after lackluster fundraising and poor showings in both the national and crucial early primary and caucus state polls.
Brownback is a socially conservative senator who emphasized his opposition to abortion, gay marriage and other issues important to Christian conservatives, who make up an influential voting block within the Republican Party.
His endorsement could help McCain in Iowa, where caucuses will be held on January 3rd to kick off the presidential primary calendar. McCain trails badly in the polls in Iowa to former Massachusetts Gov. Mitt Romney.
McCain opposes legalizing abortion and gay marriage, but he is not a darling of the far right. Brownback's endorsement may help McCain with such social conservative voters.
Rudy Giuliani's campaign made a bid for Brownback's endorsement. The former New York City Mayor is the frontrunner in the national Republican polls but also trails Romney in Iowa. Giuliani's stance in support of abortion rights makes his job of winning over Christian conservatives a tough task, and it was thought that Brownback's endorsement would help Giuliani as well.
Related: Giuliani, McCain pick up key Christian conservative backing
Click here to see CNN's new political portal: CNNPolitics.com
–CNN Deputy Political Director Paul Steinhauser