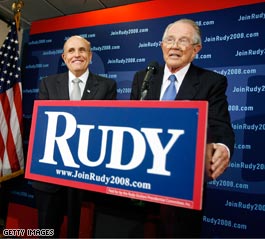 Rudy Giuliani won a major conservative endorsement Wednesday.
WASHINGTON (CNN) - Pat Robertson, the television evangelist and Christian Coalition leader, endorsed Rudy Giuliani for President at the National Press Club in Washington, D.C. on Wednesday.
"The Giuliani campaign hopes this endorsement will help with inroads among evangelical Christians," says CNN Chief National Correspondent John King.
It was Robertson's 1988 presidential campaign that, while unsuccessful, cemented evangelical voters as a dominant force within the Republican Party.
Robertson has repeatedly praised Giuliani despite their major differences on social policy, such as abortion and gay marriage.
Both men say a friendship developed after a long conversation on a plane during a trip to Israel several years ago. Another thing both men have in common is that they are prostate cancer survivors.
Giuliani is the frontrunner in the national polls, but he trails in surveys in many of the early primary and caucus states, among them Iowa and South Carolina, where social conservative voters make up a major part of the Republican voting electorate.
Reacting to the Robertson endorsement, Former Massachusetts Gov. Mitt Romney, one of Giuliani's chief rivals for the Republican nomination, said "you can't get them all."  Romney also touted his recent endorsements by conservative activist Paul Weyrich and Bob Jones III, president of the evangelical Bob Jones University in Greenville, South Carolina.
Related: Giuliani, McCain pick up key Christian conservative backing
- CNN's John King, Paul Steinhauser, and Peter Hamby