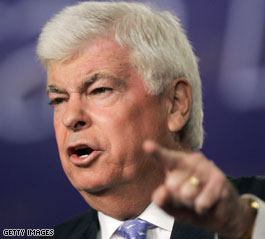 Dodd's Iowa campaign pledges to forbid their staff and out-of-state volunteers from caucusing.
CEDAR FALLS, Iowa (CNN) - If you're not a true Iowan, you shouldn't be caucusing.
That's the message Democratic presidential candidate Chris Dodd's Iowa state director sent out Thursday to the five fellow Democratic campaigns with operations in the Hawkeye State.
But one of those campaigns has already dismissed the idea.
In an initial letter addressed to Dodd's opponents for the Democratic nomination, Dodd aide Julie Andreeff Jensen challenged her colleagues to "pledge that no campaign staff or out-of-state volunteers will be allowed to caucus or be counted as a caucus-goer."

Jensen wrote, "I'm sure we can all agree that the Iowa caucuses are unique and belong to the people of Iowa. As staff, we are fortunate to be a part of the process but should not interfere with the process itself."
A spokeswoman for the Dodd campaign said the point of the letter is to prevent campaigns from registering large amounts of staff - many of whom arrived in the state only months ago - from influencing the results of the caucus.
"I could register," the spokeswoman told CNN, "but I don't consider myself a resident of Iowa in the sense that I should be able to participate in the caucuses."
She added that a similar pledge was signed by all presidential campaigns in 2004.
But at least one person on New Mexico Gov. Bill Richardson's staff is already taking issue with Dodd's challenge.
"I have participated in every Presidential caucus since 1972 and refuse to be bound not to caucus for the candidate of my choice by any candidate or their campaign<-ever," said Shari Fitzgerald, Richardson's state caucus director.
Fitzgerald, a lifelong Iowa resident according to the campaign, added, "I am an Iowan and it is not just my right, but my duty as a citizen to participate in my caucus. It is unfair to try to disenfranchise any Iowan from this critical process."
The Dodd campaign fired back with the following statement:
"The intention of this pledge is to ensure that Iowans, and only Iowans, are participating in the Iowa caucuses on January 3rd, and the Richardson campaign knows that. It's disappointing that they would entirely reject the priority of protecting the integrity of the caucuses, rather than working with us to alleviate any concerns they may have about specific individuals."
According to the Iowa Democratic Party, a voter must be a registered Democrat in the precinct they choose to participate in, but no proof of residency or any identification is required on caucus night.
Party spokeswoman Carrie Giddins said, "The spirit of the rule would certainly eliminate anyone coming to Iowa strictly to volunteer for the caucuses in the final days."
-CNN Iowa Producer Chris Welch