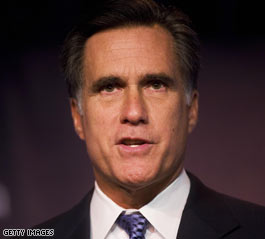 The audio recording provides a rare glimpse into Romney's private efforts to win over evangelical Christians skeptical of his Mormon faith.
COLUMBIA, South Carolina (CNN) - At an invitation-only meeting held Tuesday with students, faculty and alumni of the fundamentalist Bob Jones University, former Massachusetts Gov. Mitt Romney put aside questions about his Mormon faith and focused instead on what he described as his shared values with Christians, according to an audio recording of the meeting obtained by CNN.
Although Romney has often spoken publicly about his efforts to allay the fears of evangelical Christians over his Mormon faith, the audio recording of the event provides a rare glimpse into Romney's private efforts to court the constituency many see as crucial to his presidential bid.
"I get good support from evangelical Christian leadership around the country, you know, despite a difference in religion," Romney told the audience of evangelicals gathered at the Greenville Hilton.
"I think it was Dr. Richard Land of the Southern Baptist Convention who said we're not electing a pastor-in-chief, and so I appreciate that support and just you remember that when you go to vote," he said with a laugh.
The recording, which was done without the knowledge of the Romney campaign or those from the Bob Jones community in attendance, was provided to CNN by an alumnus of the fundamentalist Christian school who was invited to the private meeting, which was described in an e-mail he also provided as "designed to specifically reach out to members of the Bob Jones University family."
Read the entire story and listen to the audio recording here.
Check out CNN's new politics portal: CNN.com/Politics
- CNN South Carolina Producer Peter Hamby