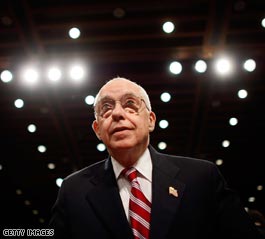 Michael Mukasey will soon take over the helm of the Justice Department.
WASHINGTON (CNN) - Retired federal judge Michael Mukasey will become Attorney General Mukasey on Friday afternoon, taking the oath of office without fanfare from a Justice Department official.
Officials said Mukasey was en route from New York to Washington at midday and was expected to go straight to his new Justice Department office to take the oath in private from Assistant Attorney General for Administration Lee Loftus.
Next week Mukasey will be formally sworn in at a public ceremony either at the White House or the Justice Department. No date has been announced.
Justice Department officials busily processing documents in advance of Mukasey's arrival said they expected the new attorney general to hold a series of closed meetings with senior officials Friday, including one dealing with classified matters to which Mukasey did not have access prior to his confirmation.
Assistant Attorney General for the Civil Division Peter Keisler, who has doubled as acting attorney general in recent weeks, is expected to leave the department within days. Keisler had announced his planned departure and was within a day of leaving when then-Attorney General Alberto Gonzales announced his surprise decision to resign. President Bush asked Keisler to stay on to head the department until a successor was confirmed, and he agreed.
Acting Deputy Attorney General Craig Morford is expected to remain in his post for now.
The Senate voted to confirm Mukasey Thursday night, 53-40, despite complaints from some Democrats about his refusal to brand as torture a controversial interrogation technique known as "waterboarding."
Mukasey, 66, will take over a Justice Department beset by a number of high-level vacancies and congressional investigations. Gonzales resigned under fire in September.
Related: Mukasey to be sworn in as attorney general
- CNN Justice Producer Terry Frieden