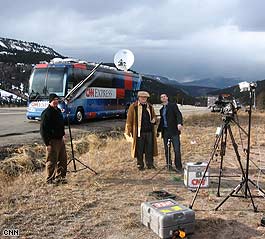 The CNN Election Express stops at the Vail Pass for live reports.
ON BOARD THE CNN ELECTION EXPRESS (CNN)- We're on the road to Las Vegas. And we're two miles high. We set up shop and CNN Senior Political Analyst Bill Schneider did live reports for CNN Domestic and CNN International at the Vail Pass, nearly 11,000 feet in altitude.
We started the morning in Denver, outside the state capitol. The Democrats are holding their presidential convention in the Mile High City next summer. The party's made major gains in Colorado and throughout the Rocky Mountain states. They've picked up four House seats, two Senate seats and three Governorships over the past two elections.
Here in Colorado, Democrats control the governor's office and both houses of the state legislature for the first time in 40 years. A region that was once reliably red is now up for grabs and Democrats hope to continue that trend in next year's Presidential election. That's one reason their holding their convention in Denver.
But Republicans say that they'll hold on to the region, especially if Hillary Clinton wins the nomination.
Bill Schneider's first live shot this morning was in front of the state capitol. But just as we were finishing up, we had to move. The city was setting up for Denver's Veterans Day parade, and the CNN Election Express was in the way. So we quickly packed up, brought down the satellite dish atop the bus, and drove over to Mile High Stadium to set up shop again. Schneider was back at it, going live for CNN and CNN International.
After a few more live reports for CNN Domestic and our international network, we were on our way, up into the Rocky Mountains, and on the road to Las Vegas, where CNN will host Thursday's Democratic Presidential Debate.
Related video: Watch Bill Schneider report from Vail Pass on the way to Las Vegas
Related video: Watch Paul Steinhauser report on Western politics
Click here to see CNN's new political portal: CNNPolitics.com
- CNN Deputy Political Director Paul Steinhauser