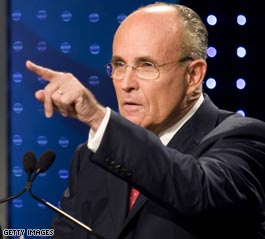 Rudy Giuliani campaigns in Colorado on Saturday.
(CNN) - Leading Republican presidential candidate Rudy Giuliani criticized Hillary Clinton Saturday in Colorado for being indecisive on illegal immigration and Iraq.
"It is the whole shifting positions of Hillary Clinton, which I think has now caught up to her. Hillary Clinton has been doing this for a long time. The driver's license answer merely displayed what has been going on with Hillary Clinton throughout this entire campaign. She cannot take a position and stick with it," said Giuliani at a campaign stop in Loveland, Colorado.
"And if you want to go back, you can track six different positions on Iraq and that is a very serious matter," added Giuliani.
Giuliani was interrupted by 9/11 conspiracy theorists who accused Giuliani of having prior knowledge of the attack on the World Trade Center. As one protester was escorted from the Loveland Coffee Company by police, others continued chanting and carrying signs reading, "911 was an inside job."
Giuliani dismissed the protesters as being small in number. "After being mayor for eight years, I would consider this kind of a minor four or five person protest. It doesn't compare to anything I have faced in the past," said Giuliani.
Click here to see CNN's new political portal: CNNPolitics.com
- CNN Political Desk Editor Marissa Muller