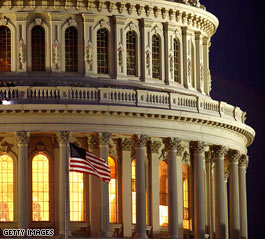 Senate Democrats are banning the sale of cigarettes on their side of Capitol Hill.
WASHINGTON (CNN) - Democrats in. Cigarettes out. Senate leaders are banning cigarette sales on their side of the Capitol, a decision that ends a little-known discount and is sparking a fire sale at Senate convenience stores.
Last week, Senate Rules Chairman Dianne Feinstein, D-California, and the ranking Republican on the committee, Sen. Bob Bennett, R-Utah, ordered that Senate convenience shops, including one in the Capitol itself, stop selling cigarettes after the first of the year.
Many Senate staffers buy cigarettes from those shops because retail goods inside the Capitol complex are sold with no sales tax. That discount is set to become an outright bargain Tuesday as various Senate shops plan to sell cigarettes at $3 a pack to get rid of inventory. Cigarettes in the District of Columbia commonly sell for more than $4 a pack.
Rules Committee staff director Howard Gantman confirmed the overall policy change to CNN, noting Democratic Sens. Frank Lautenberg of New Jersey and Tom Harkin of Iowa had been asking for an internal Senate ban on cigarette sales for years.
- CNN's Lisa Desjardins