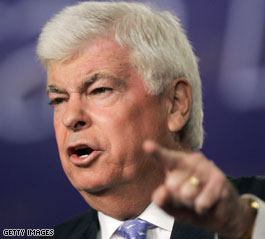 Dodd scored a key endorsement in Iowa Tuesday.
WASHINGTON (CNN) - Presidential hopeful Chris Dodd Tuesday won the support of a key Iowa Democrat.
Terry Stewart, the chairman of the Dubuque County Democratic Party, hailed the Connecticut senator as "uniquely qualified to be president," and cited Dodd's legislative successes in the Senate as the chief reason he is offering his support.
"I didn't come to this decision lightly," Stewart said in remarks circulated by Dodd's campaign. "I studied the range of Democratic candidates this entire calendar year...I looked for the edge that one candidate would have over the others. Chris Dodd rose to the top of the roster."
- CNN Ticker Producer Alexander Mooney