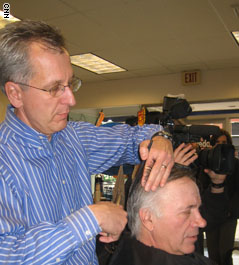 Tancredo gets a $400 hair cut for charity.
CONCORD, New Hampshire (CNN) – Republican presidential candidate Tom Tancredo paid 400 dollars for a haircut Friday .
At a Granite State hair salon, the Colorado congressman cut and coiffed his hair to promote the charity efforts of local business owner, David Holden.
Holden, whose 12- year old son Costica has autism, devised the idea after hearing about former Sen. John Edwards' pricey dos. Hoping to poke fun and advance a charitable cause, Holden has asked all presidential candidates to consider a cut.
So far only Tancredo and Former Arkansas Gov. Mike Huckabee have shed their gray locks for charity. Holden told reporters that a Democrat is also on this schedule. Tancredo's hair cut fee will be donated to the Autism Society of America.
–CNN New Hampshire Producer Sareena Dalla