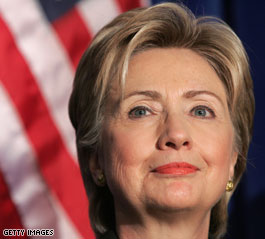 Clinton spoke about her global strategy to combat AIDS on Thursday in California.
(CNN) – Sen. Hillary Clinton this week announced a global strategy to combat AIDS and said as president she will strike one of the most controversial provisions of George W. Bush's global AIDS program - a requirement that one-third of disease prevention funds go to abstinence-before-marriage programs.
While the HIV/AIDS plans of Sen. Barack Obama and former Sen. John Edwards express clear opposition to "ideology" in disease prevention funding, Clinton's plan offers the most explicit rejection of the abstinence requirements from a presidential candidate to date.
The President's Emergency Plan for AIDS Relief, also known as PEPFAR, is a U.S.-funded, five-year, $15 billion plan to combat HIV/AIDS in developing nations. Initiated in 2003 by the Bush administration, the program is set to expire next year.
PEPFAR has been criticized by public health advocates outside the administration for its stipulation, mandated by Congress, that at least one-third of the money spent by the United States on disease prevention abroad should go to abstinence education programs.
Bush administration officials have defended abstinence education as part of a multi-faceted approach to fighting AIDS, a strategy that also includes "being faithful" and using condoms.
Click here to read the rest of this story.
- CNN Political Producer Peter Hamby