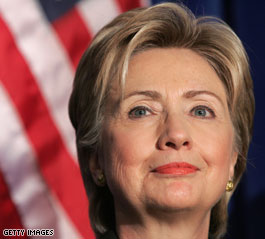 Clinton was unable to travel into Iowa on Saturday for a pair of events with her fellow Democratic rivals.
DES MOINES, Iowa (CNN)–An audience of progressive activists booed Senator Hillary Clinton today during an exchange on immigration reform. At the Heartland Community Values Forum in Des Moines, Iowa, Clinton was asked whether "giv(ing) undocumented immigrants a path to citizenship" would be a priority in her first hundred days as President. Clinton told the audience "comprehensive immigration reform will be a high priority for me." That response elicited boos – and no applause.
Asked again whether she'd take up the issue in her first hundred days she said,"Well you've got to get the Congress to pass the legislation in order for the President to do as much as possible, which I will do." That was met by still more loud boos.
Clinton was taking part in the Forum by telephone - she had been grounded in New Hampshire after her last minute trip there Friday night. The event's moderator told CNN she believes Clinton was hurt by her distance, more than the substance of her answer. "She gave a boilerplate response, when the audience wanted a conversation, a dialogue," says Cathy Hughes, the moderator and Chairperson of Radio One and TV One. "She didn't have a feel for the room. One of the advantages of being here in person you can feel the emotional energy." After one of speakers attending the Forum told an emotional personal story, a voice that sounded like Clinton's could be heard saying "Can you hear me?"
Comments by John Edwards, Dennis Kucinich, Chris Dodd and Barack Obama – who were present -were received with loud applause.
-CNN Congressional Correspondent Jessica Yellin