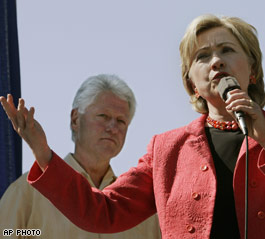 Former President Clinton on the campaign trail with his wife earlier this year.
DES MOINES, Iowa (CNN) – President and Senator Clinton attended a dinner at Azalea's restaurant in Des Moines Saturday night, following the Iowa Brown and Black forum.
The couple could be seen chatting with guests including Los Angeles Mayor Antonio Villaraigosa.
Following the event, Mrs. Clinton walked downstairs and shook hands and chatted with the gathered press corps. A few minutes later President Clinton grabbed her hand and pulled her back saying he had to get her home.
The President flew back to their home in New York, and Mrs. Clinton was expected to remain in Iowa overnight ahead of events there Sunday.
-CNN Producer Matt Hoye