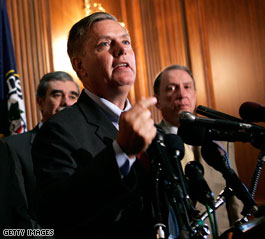 South Carolina senator Lindsey Graham is an ardent backer of McCain.
NORTH AUGUSTA, South Carolina (CNN) - Since this summer, with almost robotic consistency, Sen. Lindsey Graham has introduced his friend John McCain on the campaign trail in South Carolina as "the only candidate who can beat Hillary Clinton next November."
Reporters covering McCain's presidential campaign could probably recite Graham's stump speech in their sleep.
But on Monday, the day after a new poll showed Clinton's lead slipping in South Carolina, another name crept into Graham's warm-up act:
"Our party needs a nominee who can be competitive all over the country, just not here in Aiken County. If we're going to beat Hillary Clinton … or Obama … we're going to have a candidate that the independent voter will be drawn to."
- CNN South Carolina Producer Peter Hamby