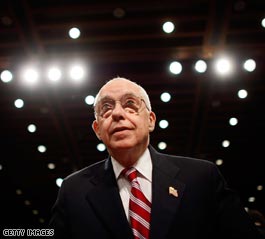 Attorney General Michael Mukasey
WASHINGTON (CNN) - Attorney General Michael Mukasey on Friday rejected demands from key congressional leaders for information about the Justice Department's preliminary inquiry into the destruction of CIA tapes of detainee interrogations, saying to do so might be seen as bowing to "political influence."
In letters to the House and Senate Judiciary committees, he said he would not turn over the material they want nor would he appoint a special prosecutor to conduct the investigation, as some lawmakers had requested.
"At my confirmation hearing, I testified that I would act independently, resist political pressure and ensure that politics plays no role in cases brought by the Department of Justice. Consistent with that testimony, the facts will be followed wherever they lead in this inquiry and the relevant law applied," Mukasey said.
He sent a third similar letter to Assistant Senate Majority Leader Richard Durbin, D-Ill., who had been the first to issue demands for information from the Justice Department.
"With regard to the suggestion that I appoint a special counsel, I am aware of no facts at present to suggest that department attorneys cannot conduct this inquiry in an impartial manner. If I become aware of information that leads me to a different conclusion, I will act on it," Mukasey said.
Senate Judiciary Committee Chairman Patrick Leahy, D-Vermont, said he was "disappointed" by the decision and indicated a confrontation with the new attorney general will come early next year.
"I will ask Attorney General Mukasey - in public and on the record - more about the department's knowledge of and role in the existence and destruction of these videotapes at the committee's next oversight hearing, which I intend to call early next year," Leahy said in a written statement.
He also indicated that access to the CIA tape inquiry will be an issue when Mukasey's nominated deputy comes before the panel for a confirmation hearing next week.
"The committee will also look forward to hearing from deputy attorney general nominee Mark Filip about this matter at his confirmation hearing on December 19," Leahy said.
Also Friday, CIA Inspector General John Helgerson and assistant Attorney General Kenneth Wainstein sent a similar letter to the top Democrat and Republican on the House Select Committee on Intelligence.
The letter, to committee Chairman Silvestre Reyes and ranking Republican member Peter Hoekstra, urged the committee to abandon its investigation of the tape destruction - saying their inquiry would interfere with the inspector general and Justice Department's own inquiry.
"We cannot estimate how long this process will take or where it will lead, but pledge to advise you as soon as we conclude that our efforts are no longer at risk or that these request can be fulfilled without jeopardizing our inquiry," the letter reads.