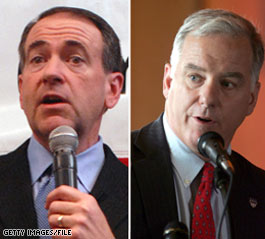 Is Huckabee this year's Howard Dean?
WASHINGTON (CNN) - Is Mike Huckabee the new Howard Dean?
That's what one prominent conservative thinks, and he's warning his fellow Republicans not to nominate the former Arkansas governor.
Rich Lowry, an editor of the conservative publication the National Review (which endorsed rival Mitt Romney this week), writes on the Republican Web site Townhall.com Friday that nominating Huckabee would amount to "an act of suicide" for the party.
"Like Dean, Huckabee is an under-vetted former governor who is manifestly unprepared to be president of the United States," Lowry writes. "Like Dean, he is rising toward the top of polls in a crowded field based on his appeal to a particular niche of his party."
"As with Dean, his vulnerabilities in a general election are so screamingly obvious that it's hard to believe that primary voters, once they focus seriously on their choice, will nominate him," he adds.
Huckabee, an ordained Baptist minister, has gained ground in several key primary states largely due to his appeal to Republican evangelical voters. Recent polls have suggested he now holds a double-digit lead over Romney in Iowa, and is in front of Rudy Giuliani and Fred Thompson in South Carolina.
And in the latest sign Huckabee's campaign is gaining serious momentum, veteran GOP strategist Ed Rollins - the architect of Ronald Reagan's 1984 landslide re-election victory - has signed on to help manage the operation.
Not so fast, says Lowry. According to the conservative commentator, nominating a Baptist minister would turn one of the party's assets - its message of social conservatism - into a liability.
"[A] Baptist pastor running on his religiosity would be rather overdoing it," he wrote. "Social conservatism has to be part of the Republican message, but it can't be the message in its entirety."
In response to Lowry's column, campaign manager Chip Saltsman defended Huckabee's electability and record as governor.
"Rich Lowry should know that four of the past five U.S. presidents have been governors, and all but Ronald Reagan were from the South," Saltsman said. "Mike Huckabee's candidacy is picking up steam because his optimistic, conservative message is resonating with voters who are looking for a leader with vision and experience. He has been elected four times for statewide office, twice as governor, in a Democratic-state because he places a premium on results, and that's what the American people are looking for."
- CNN Ticker Producer Alexander Mooney