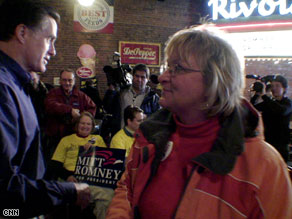 Kathy Krafka Harkema says she's never seen a caucus like this one.
OSKALOOSA, Iowa (CNN) - Kathy Krafka Harkema, 47, calls herself a lifelong Iowa caucus-goer. But with five days until the 2008 caucuses, she says she's never seen a race like this one.
"There are so many people still deciding, there are even people deciding between which party they want to caucus for," she said Saturday, picking apart a piece of pound cake inside Smokey Row Coffee House before Mitt Romney popped in for a brief campaign stop.
Krafka Harkema, a Republican who works in public relations, called it "the most spirited caucus activity I've ever seen in my lifetime" and said that TV airwaves and mailboxes are saturated with campaign pitches. Her family held a mini-caucus over Christmas, she said, with Romney winning.
"I see people my age who are caucusing for the first time. There's no clear frontrunner in either party, so people feel like they have more power and more of a voice this year," she said.
She said all the Republican candidates "have pluses and minuses," but she recently came around to Romney because she likes what she said is his level-headed, managerial pitch. Rival Mike Huckabee, she said, has injected too much religion into the race.
After seeing Romney speak in person for the first time Saturday, Krafka Harkema was assured.
"That sealed it," she said, walking over to shake Romney's hand.
- CNN Political Producer Peter Hamby