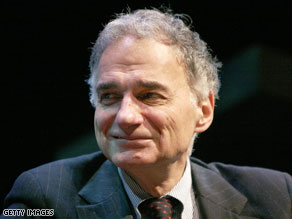 Nader said he likes Democrat John Edwards for president.
MUSCATINE, Iowa (CNN) - Consumer advocate Ralph Nader criticized Democrat Hillary Clinton Monday, and gave his seal of approval to her presidential rival, John Edwards.
In an interview with the Politico, the consumer advocate urged liberal Iowans to "recognize" Edwards by "giving him a victory." He added that Clinton would "pander to corporate interest groups" if elected.
Nader, who has long said Democrats and Republicans are almost indistinguishable, called Edwards his party's "glimmer of hope."
Clinton, Edwards and Obama are either tied or separated by just a few percentage points in most recent polls, with Iowa's first-in-the-nation caucuses just two days away.
Nader is a controversial figure within the Democratic party – a liberal icon who is blamed by some for Vice President Al Gore's loss to George W. Bush in the 2000 presidential race.
Nader has said before that he is not a fan of Clinton or Obama. During a June interview with CNN's Wolf Blitzer, Nader took a few jabs at Sen. Clinton for "not using her political capital to shift power to challenge abuses of power." In another interview, with MSNBC's Chris Matthews, Nader accused Obama of excluding himself from the progressive coalition.
On Monday, the four-time presidential contender specifically accused Clinton of failing to challenge military spending because "she is a woman who doesn't want to be labeled as soft on defense and she doesn't want to be shown as taking on big business."
"The issue is corporate power and who controls our political system and it's not who has experience for six years or two years," he said, alluding to an ongoing debate over experience between Clinton and another Democratic presidential hopeful, Illinois Sen. Barack Obama.
This isn't the first time that Nader has expressed his support for Edwards. In his 2004 campaign for the White House, Nader pushed for Democratic candidate John Kerry to pick Edwards as his running mate, saying he would be an "effective spokesperson for citizen's rights in court…"
- CNN's Cody Combs and Rebecca Sinderbrand