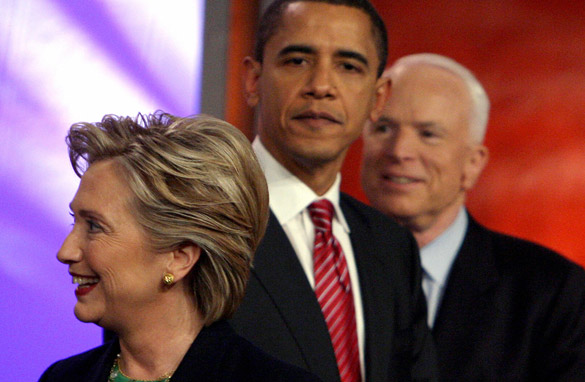 A new poll out Wednesday suggests McCain will be difficult to beat in November. (Getty Images)

WASHINGTON (CNN) - A new poll out Wednesday suggests Sen. John McCain, the presumptive Republican presidential nominee, will be a difficult candidate for the eventual Democratic nominee to beat in a general election match up this fall.
According to a just released Los Angeles Times/Bloomberg poll, McCain would be in tight races with either of the remaining Democratic presidential candidates.
McCain is statistically tied with Sen. Barack Obama, 44 percent to 42 percent, and ahead of Sen. Hillary Clinton by 6 points, 46 percent to 40 percent. The poll's margin of error was plus-or-minus 3 percentage points.
The poll also showed McCain with a 61 percent approval rating, a number higher than both Clinton's and Obama's in past polls. (A CNN/Opinion Research Corporation poll earlier this month measured Clinton's approval rating at 52 percent and Obama's at 58 percent.)
The Arizona senator holds a clear advantage on dealing with the war in Iraq, according to the poll, and holds a 9 point advantage on economic issues over Obama, despite having acknowledged that area is not his expertise. Though the poll finds voters favor Clinton by 10 points over McCain to handle the economy.
The same poll also showed Obama with a 6 point edge over Clinton nationally - a finding that's consistent with several other polls out earlier this week that indicate that the senator from Illinois is the frontrunner in the Democratic race.
- CNN Ticker Producer Alexander Mooney