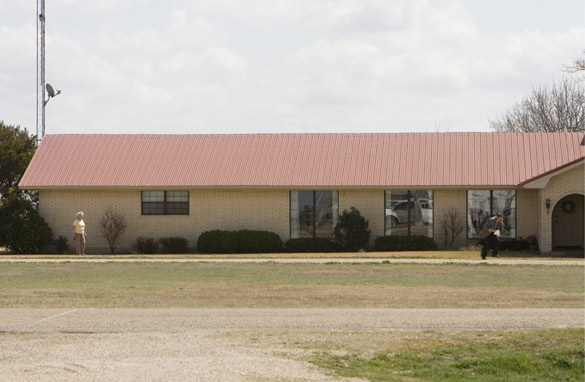 A Danish journalist almost ended up in the middle of an international incident not far from President Bush's ranch Saturday. (Photo credit: Kaare Sorensen/Nyhedsavisen).
CRAWFORD, Texas (CNN) - A Danish journalist came this close to getting shot Saturday by an elderly woman packing a pistol near President Bush's ranch here in what was easily the strangest incident I've ever witnessed covering the White House.
It all started so innocently as I sat with a group of Danish journalists just down the street from Bush's ranch during a visit by Danish Prime Minister Anders Fogh Rasmussen. The two leaders were having lunch on the ranch, so I was waiting at a nearby historic one-room schoolhouse with White House staff to interview Rasmussen after the meal. Then the prime minister was going to do a brief press conference with the Danish press corps.
Terkel Svensson, a writer for the Danish News Agency, could not get wireless Internet access at the schoolhouse to file a story. But Svensson could get his cell phone working so he called his editor in
Copenhagen and started wandering across a quiet country road as he chatted away.
"I was just so occupied dictating my story that I didn't really see where I went," Svensson told me later. "I was just walking and talking."
What Svensson didn't realize was that he had stopped walking a couple hundred feet away, on the front lawn of an elderly woman. An elderly woman who looked through her window and didn't like that a strange man was standing outside her house. An elderly woman who had, um, a gun.
Next thing you know the woman is outside, no more than a few dozen feet from the journalist, demanding that he leave. "Suddenly she comes out and she says, 'Get off my property. You're trespassing,'" recalled Svensson.
Svensson was too preoccupied to notice the pistol, and was not aware that Texas law gives homeowners leeway on using a weapon when someone is trespassing on your property. All of us journalists across the street were too far away to see the pistol at first, until a Danish photographer with a telephoto lens announced to a bunch of us that there was indeed a weapon in the elderly woman's right hand.
As word spread that the lady had a gun – which she did not use – I can tell you it's a severe understatement to say White House and Secret Service officials were a bit concerned about the fact that they had just dodged an international incident. Ditto for Svensson, who was alarmed when he safely crossed the street and was shown dramatic still photos of the lady holding the gun.
"I will show the photos to my wife and children," Svensson told me. "They thought I was on a safe trip."
CNN was not able to reach the woman for comment.
–CNN White House Correspondent Ed Henry