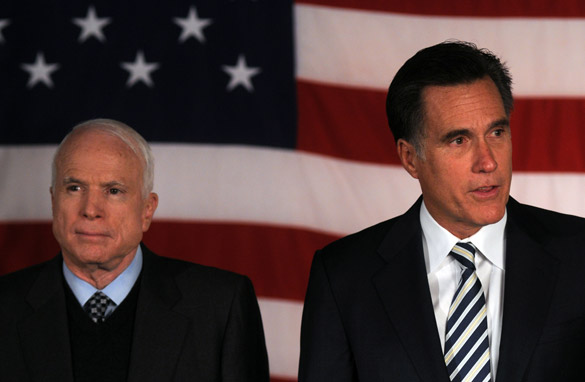 Romney made clear Tuesday night he's interested in being McCain's running mate. (Getty Images)
(CNN) - Mitt Romney's message came through loud and clear to John McCain.
The Arizona senator joked Wednesday he got the impression Romney is interested in the No. 2 spot on the Republican presidential ticket after watching a recent interview with the former Massachusetts governor.
"I got that impression from him watching his interview last night, I got that impression," McCain said laughing on his campaign plane in New Hampshire. (Watch McCain's comments on Romney)
The comments follow Romney's interview with Fox News Tuesday night, during which the former presidential candidate said he'd be honored to serve alongside McCain.
"I think any Republican leader in this country would be honored to be asked to serve as the vice presidential nominee, myself included," Romney said. "Of course this is a nation which needs strong leadership. And if the nominee of our party asked you to serve with him, anybody would be honored to receive that call … and to accept it, of course."
McCain refused to hint at just how seriously his campaign is considering Romney for the ticket, though reports earlier this week said some aides to President Bush are pushing the idea of a McCain-Romney ticket, given the Massachusetts Republican's credentials with respect to economic issues.
But McCain and Romney were bitter opponents earlier this year in the Republican presidential race, and the two men have butted heads for several years. Romney also categorically ruled out being McCain's running mate in January, saying "I'm not going to be any vice president to John McCain either, that's not going to happen."
McCain acknowledged he and Romney were in a tough fight for the party's nomination, but suggested the two have put their differences behind them.
"The lesson in politics is that you go forward, not back and so I defend the fact that it was a spirited and tough campaign but the fact is that once it's over, we share…the same principles and values of conservative Republicans," he said on his campaign bus later Wednesday.
McCain also said it's not necessary for a presidential candidate to be personally close to his or her running mate.
"I don't think you have a personal relationship, but you have to have a comfortable, professional relationship."
- CNN's Alex Mooney and Alexander Marquardt