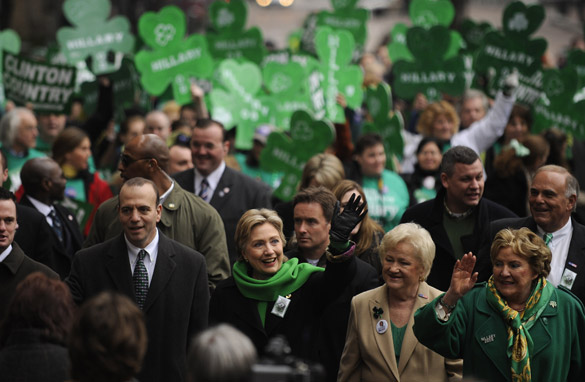 Clinton marched in Pittsburgh's St. Patrick's Day parade Saturday. (Getty Images)
PITTSBURGH, Pennsylvania (CNN) - There was no red or blue politics Saturday, only green as Democratic presidential candidate Hillary Clinton marched in this city's annual St. Patrick's Day parade.
It was the first of two holiday parades for the New York senator. She travels to Scranton in eastern Pennsylvania to take part in that city's St. Patrick's Day festivities later in the day.
Pennsylvania is the next big battleground in the race for the White House. There are 158 delegates at stake when the state holds its primary on April 22.
Clinton marched about two miles on the parade route through downtown Pittsburgh. Thousands of people lined the streets, cheering and screaming, some holding green signs that said "Clinton Country" with others that said O'Bama. At times there were mini-sign wars, all in good Irish fun.
However, some boos could be heard as Clinton passed a multi-tiered parking garage, and one man held a handwritten sign that said "Hillary you are a SHAM and have the personality of a ROCK."
Clinton wore a green American Federation of State, County and Municipal Employees scarf. Pennsylvania Gov. Ed Rendell, Pittsburgh Mayor Luke Ravenstahl and Allegheny County Executive Dan Onorato, who have all endorsed the senator, marched alongside her.
At the end of the parade Clinton addressed a crowd, saying, "May the luck of the Irish be with us all." An announcer called the Clintons "great friends of the Pittsburgh Irish."
Clinton has Pennsylvania to herself Saturday. Rival candidate Sen. Barack Obama of Illinois is campaigning in Indiana, which holds its primary two weeks after Pennsylvania's. And Sen. John McCain of Arizona, the presumptive GOP presidential nominee, is on his way to Europe and the Middle East for a week long congressional trip. McCain campaigned in Pennsylvania on Friday.
- CNN's Sasha Johnson and Paul Steinhauser