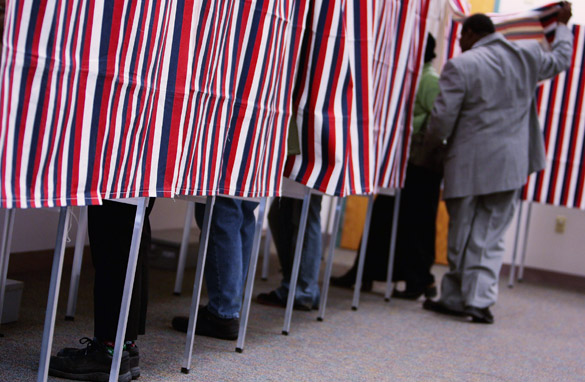 The Obama campaign says a Michigan re-vote could lead to several legal issues. (Getty Images)
(CNN) - Hours before Hillary Clinton is set to take the stage in Detroit, Michigan to personally make the case for a re-vote in the state, the Obama campaign circulated a memo from its top lawyer arguing a re-vote could encounter legal hurdles.
Bob Bauer, a longtime Washington lawyer and the Obama campaign's general counsel, said in the memo a rushed re-vote in Michigan like the one currently proposed by the governor is full of several flaws that could serve to disenfranchise voters there a second time.
"[The] questions could put at risk the running of the election, undermine acceptance of the results if the election is held, and in both cases effectively deny Michigan voters, a second consecutive time, meaningful participation in the nominating process," Bauer wrote. (Read full Obama memo [PDF])
Specifically, Bauer took issue with the re-vote proposal's stipulation that Michigan residents who voted in the the Republican primary in January will not be able to vote in any new Democratic contest - the campaign argues several Democrats voted in the Republican primary because the Democratic one was meaningless. He also says legal issues could arise over the financing of the election with so called "soft money," absentee voter rules, and the strain of preparing for a new election in such a short time frame.
Clinton's campaign released a memo shortly after Obama's that took aim at their rival for "refusing to give the people of Michigan the chance to exercise their fundamental right to vote." (Read full Clinton memo [PDF])
"The Clinton campaign believes the right to vote is a bedrock principle of our country and that empowering the people of Michigan and Florida to make their voices heard must be a priority for any candidate running for the Democratic nomination," the Clinton memo states. "As such, we must either honor the original vote or hold a state-run primary that doesn't leave the taxpayers footing the bill."
The memo also takes issue with the Obama campaign's contention that many of its potential supporters may have voted in the Republican primary in January.
The Obama campaign's allies in Michigan organized an effort to get people in Michigan to vote for "uncommitted" in the Democratic primary, helping to bring the uncommitted share of vote to 40 percent," the memo states. "So the Obama camp can't reasonably argue supporters participated in the GOP primary and didn't vote in the Democratic contest."
- CNN Ticker Producer Alexander Mooney