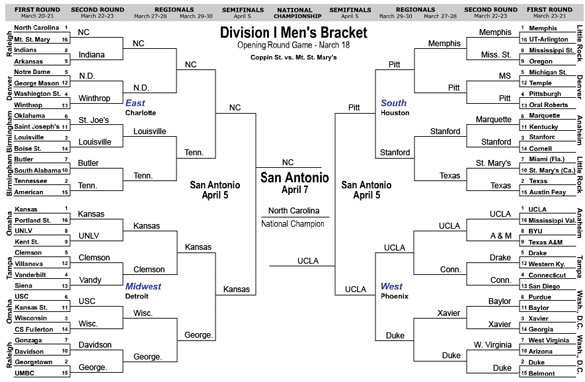 Obama's March Madness bracket, provided by the Obama campaign.
(CNN) - When running for president, every decision is a political one - even March Madness picks.
According to the Obama campaign, the Illinois senator's final four picks include North Carolina, Kansas, Pittsburgh, and UCLA.
Political observers will immediately note two of the four teams are from states which hold crucial primary contests in the coming weeks - Pennsylvania on April 22, and North Carolina just two weeks later.
As for the final game, Obama is betting North Carolina defeats UCLA, a pick that's sure to go over well with undecided voters in the Tar Heel State. But in an interview with the Charlotte Observer, the Illinois senator suggested he's not basing his bracket on political calculations.
"Well, I have to say, [North Carolina forward Tyler] Hansbrough's looking tough," Obama said. "That's a big boy, there. So I've got to fill it out, I've got to do a little bracketology before I make a final decision."
Obama isn't the only presidential candidate willing to make his picks public this year. John McCain's presidential campaign Web site now includes a section where you can fill out your brackets for the NCAA tournament and compare them to his. The campaign is expected to post the senator's choices later Thursday.
UPDATE: McCain is also predicting North Carolina will finish first, beating Connecticut – a No. 4 seed – in the final game. Kansas and Memphis round out his final four.
In some first round upsets, McCain has picked Georgia over Xavier and Villanova over Clemson. McCain's picks were posted on his Web site Thursday afternoon.
McCain's tournament picks were more conservative last year, when he had all No. 1 seeds making it to the final four.
- CNN's Mike Roselli , Alex Mooney and Kristi Keck