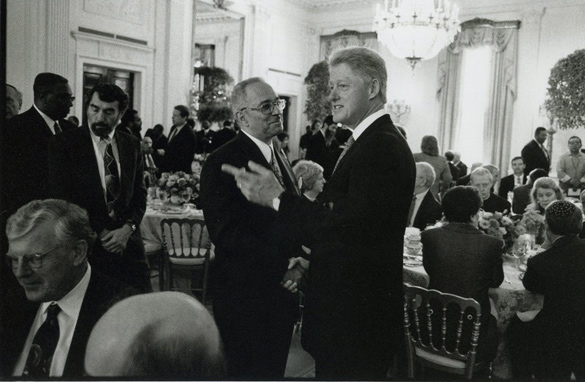 (CNN) - Barack Obama's former minister, Rev. Jeremiah Wright, attended a 1998 Clinton White House prayer breakfast, and met former President Bill Clinton – a moment which was documented by official photographers in a photo that surfaced Thursday.
Wright was one of roughly 100 religious leaders invited to the breakfast, which was held in the East Room on September 11, 1998, as part of a series of similar events scheduled that year in the wake of the Monica Lewinsky scandal.
The photograph appeared on "The truth about Trinity United Church of Christ," a blog operated by a church member.
During the breakfast, then-President Clinton told the group that "I don't think there is a fancy way to say that I have sinned."
An Obama spokesman declined to comment. Clinton spokesman Phil Singer told CNN, "In the course of his two terms in office, Bill Clinton met with, corresponded with and took pictures with literally tens of thousands of people.
According to White House documents released this week, Hillary Clinton was scheduled to attend the event as well.
The Obama campaign has struggled to re-gain its footing following the controversy over racially-charged comments by the Illinois senator's former minister. Earlier this week, Obama gave a speech in Philadelphia that was meant to clarify his opposition to the substance of Wright's remarks, as well as his views on racial division in America.
The Clinton campaign has largely steered clear of public criticism of Obama over the incident, though some current and former campaign surrogates have suggested the fact that the senator did not dissociate himself sooner might raise questions about his judgment.
–CNN's Steve Brusk and Rebeca Sinderbrand