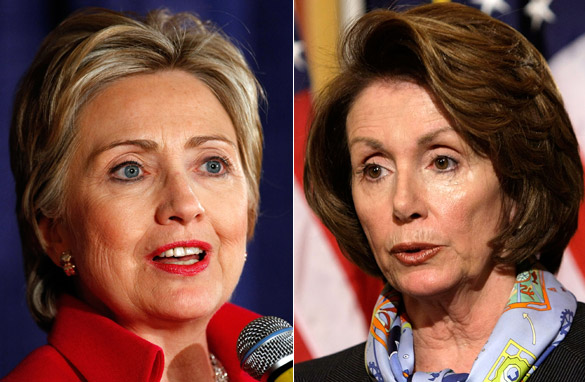 Clinton backers are taking aim at Pelosi for saying superdelegates should not overturn the pledged-delegate outcome. (Getty Images)
WASHINGTON (CNN) - Nearly 20 high-profile Hillary Clinton backers strongly criticized Nancy Pelosi on Wednesday over her recent suggestion that Democratic party superdelegates should not overturn the pledged delegate outcome at the party's convention this August.
In a letter to the House Speaker dated Wednesday, the backers said that position is at odds with the party's original intent on what the role of superdelegates should be. (Read full letter [PDF])
"Superdelegates, like all delegates, have an obligation to make an informed, individual decision about whom to support and who would be the party's strongest nominee," the backers wrote.
"Both campaigns agree that at the end of the primary contests neither will have enough pledged delegates to secure the nomination," they also said. "In that situation, super-delegates must look to not one criterion but to the full panoply of factors that will help them assess who will be the party's strongest nominee in the general election."
In an ABC interview earlier this month, Pelosi said it was her belief whichever candidate ended the round a primaries with the pledged-delegate lead should be awarded the Democratic nomination by the superdelegates. That argument would benefit Barack Obama, whose current pledged delegate lead of 171 is virtually insurmountable given the party's proportional delegation allocations, even if Clinton were to win each of the remaining 10 primary contests.
In their letter to Pelosi, the backers urged the House speaker to "clarify your position on super-delegates and reflect in your comments a more open view to the optional independent actions of each of the delegates at the National Convention in August."
"If the votes of the superdelegates overturn what happened in the elections it would be harmful to the Democratic Party," Pelosi said.
Obama campaign spokesman Bill Burton called the letter "inappropriate."
"This letter is inappropriate and we hope the Clinton campaign will reject the insinuation contained in it," Burton said. "Regardless of the outcome of the nomination fight, Senator Obama will continue to urge his supporters to assist Speaker Pelosi in her efforts to maintain and build a working majority in the House of Representatives."
Meanwhile Pelosi spokesman Nadeam Elshami told CNN's Deirdre Walsh: "As chair of the convention, [Pelosi] is neutral and her position has remained the same throughout the primary season."
The letter comes one day after Senate Majority Leader Harry Reid seemed to suggest Democratic leaders were in the process of working out a deal to ensure the party's nomination fight does not go all the way to the convention.
"Things are being done," Reid told the Las Vegas Review-Journal.
(Updated with Obama, Pelosi reaction)
- CNN Ticker Producer Alexander Mooney