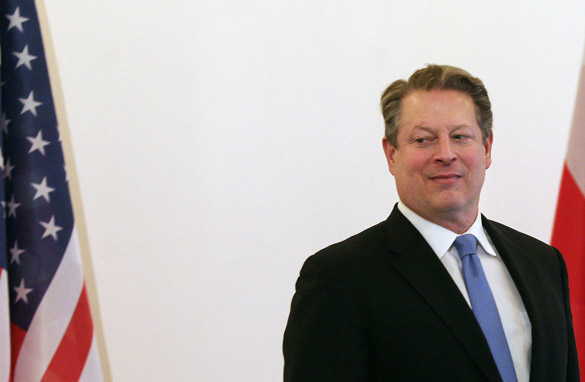 Some Democrats see the neutral Gore as a potential powerbroker. (Getty Images)
(CNN) - He's increasingly mentioned as a potential Democratic powerbroker, but former Vice President Al Gore said Thursday he still expects his party's heated White House race will resolve itself.
"What have we got, five months left?" Gore told the Associated Press after delivering a speech at Middle Tennessee State University.
"I think it's going to resolve itself, but we'll see," he added.
The former vice president did not say whether he expected the race will be resolved before the party's convention in late August.
His comments come as Democratic National Committee Chairman Howard Dean said in several interviews that he hopes the party's approximately 350 undecided superedelegates make their decision by July 1 — less than a month after the final primary contests in Montana and South Dakota.
As the Democratic race drags on, Gore's name has been invoked as a neutral Democratic party elder who could forge a compromise between the two candidates, or even appear on the top of the presidential ticket himself.
Earlier this week, Democratic Rep. Tim Mahoney of Florida suggested Gore, the party's 2000 presidential nominee, could assume the role of a compromise candidate if neither Hillary Clinton nor Barack Obama could broker a deal.
"If it goes into the convention, don't be surprised if someone different is at the top of the ticket," he told a Florida newspaper, adding Gore could be that choice.
TIME.com: Is Al Gore the answer?
- CNN Ticker Producer Alexander Mooney