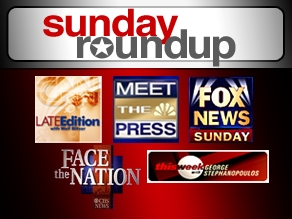 WASHINGTON (CNN) - With this week's headlines focused on the congressional testimony of U.S. Commander in Iraq Gen. David Petraeus and U.S. Ambassador to Iraq Ryan Crocker, the Sunday morning talk show circuit showcased some of the top political players in the next steps for the United States in Iraq:
On CNN's Late Edition, Senate Foreign Relations Committee Chairman Joe Biden and Republican Ranking Member Richard Lugar gave their assessments following the week of testimony. Biden told host Wolf Blitzer that it's not the presidential election that will change the Iraqi government, but rather "reality on the ground will change the politics in Iraq." Lugar expressed some disappointment in the current Iraq strategy, telling Blitzer "The hearing demonstrated that we don't have still a definition of success or victory."
Also on Late Edition, Iraqi Foreign Minister Hoshyar Zebari asserted that the Iraqi government is doing its part to stabilize the country. "We are shouldering the main burden on looking after our people," Zebari said. "We are not standing by. This is our country."
********
CBS's Face the Nation featured Defense Secretary Robert Gates. Moderator Bob Schieffer asked about the possibility of withdrawing troops, and Gates was optimistic. "When the Iraqi security forces are good enough…[US forces] can then recede into the background, that is the process that is underway." When pressed for a timetable for when a troop withdrawal might occur, Gates was cautious in setting any firm dates. "Who knows how fast these things can develop?" he said.
Democratic House Speaker Nancy Pelosi, who also appeared on the program, dismissed claims by the Bush administration and others that a withdrawal of U.S. troops from Iraq would create chaos, countering that it would instead send a message and prompt the Iraqi government to "take responsibility for its country."
********
On Fox News Sunday, National Security Adviser Stephen Hadley rejected any notion that President Bush was withdrawing some troops from Iraq in September in an attempt to boost Sen. John John McCain's White House bid. "His objective is to leave Iraq in a situation at the end of his term where we have a strategy that is succeeding," Hadley told host Chris Wallace. He continued on, predicting that Bush will hand over a strategy so that the new president will not "have to confront a crisis on Iraq policy in the first months of a new administration."
–CNN's Jessica Rummel