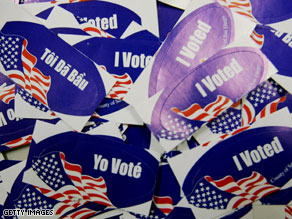 FROM CNN's Jack Cafferty:
The tsunami of voters to the polls looks like it will continue to sweep through states like Pennsylvania, North Carolina and Indiana.
In fact, more than a half a million people are either newly registered or have switched their registrations so they can weigh in on the Democratic primaries in those 3 states.
This shouldn't come as much of a surprise when you consider the tremendous interest generated by the race between Hillary Clinton and Barack Obama. Record voter registration and turnouts – particularly on the Democratic side – are what we've been seeing all along since the Iowa caucuses.
In Pennsylvania, where only registered Democrats can vote next Tuesday, more than 300,000 people have completed new registrations or switched to vote Democrat since the first of the year.
To read more and contribute to the Cafferty File discussion click here