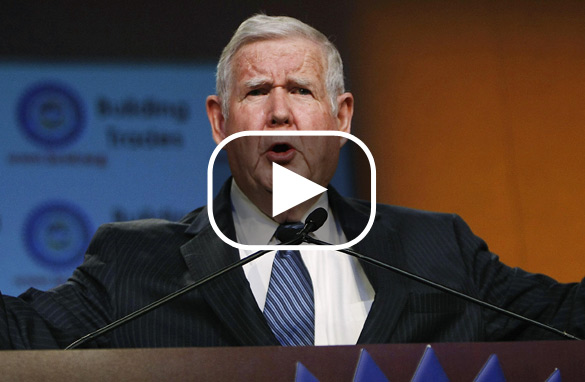 Rep. John Murtha is three years older than Sen. John McCain. (Photo credit: Getty Images)
(CNN) - Rep. Jack Murtha, who has endorsed Hillary Clinton's presidential bid, introduced the New York senator at a Washington appearance Wednesday with the observation that Sen. John McCain is too old to be president. "It's no old man's job," said Murtha.
McCain is 71, three years younger than Murtha, a powerful Democratic congressman from Pennsylvania. Murtha said the demands of the office were too much for men of their age.
If he were elected, McCain would be the oldest first-term U.S. president in history.
"...[T]his one guy running is about as old as me," said Murtha. "And let me tell you something, it's not [an] old man's job. I mean the campaign, the stress, so forth."
McCain's campaign immediately condemned Murtha's remarks, saying trail activities like his late-night talk show appearances should eliminate any voter doubt about the Arizona senator's stamina for the office, in a statement that did not mention Clinton, taking aim instead at Barack Obama.
"I think people will evaluate John McCain through the type of campaign he is running, whether it is through appearances on shows like Letterman and Leno, whether its through the fifteen hour days on the campaign trail," McCain's senior advisor Steve Schmidt. "He's a person who's in great physical shape, who has outworked every other campaign on the Republican side, and you know, has a much tougher and demanding schedule than Senator Obama."
McCain himself laughed at Murtha's remarks, telling CNN's John King that the congressman is a friend, but should speak for himself - he feels great.