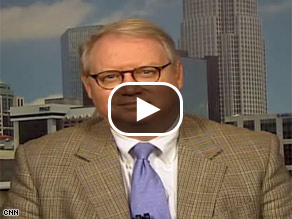 Watch a North Carolina superdelegate explain some of the factors he is considering in deciding between Clinton and Obama.
(CNN) – Even though less than ten Democratic primary contests remain, 308 superdelegates have yet to reveal which of the party's two remaining major presidential candidates they intend to support. David Parker of North Carolina is one such superdelegate.
"I have changed my mind several times just like the American public seems to be moving around," Parker told CNN's John Roberts on American Morning.
Polling results of head-to-head match-ups between Sen. John McCain, the Republican Party's presumptive nominee, and Sens. Hillary Clinton and Barack Obama will be a factor in Parker's decision.
"I'm also looking at the impact down-ballot in North Carolina," Parker said Wednesday. "And, across the South were I think Democrats need to come back."
Although Parker confessed to feeling pressure to make a decision, he also told Roberts that the long Democratic nomination fight is likely good for his party's eventual nominee – especially if the nominee is Obama.
"Doing a little sparring with Hillary Clinton - who is an incredibly tough competitor and may, in fact, knock him out - is good training for him in the fall," said Parker. "John McCain is not going to pull any punches and those gloves are going to come off quickly."