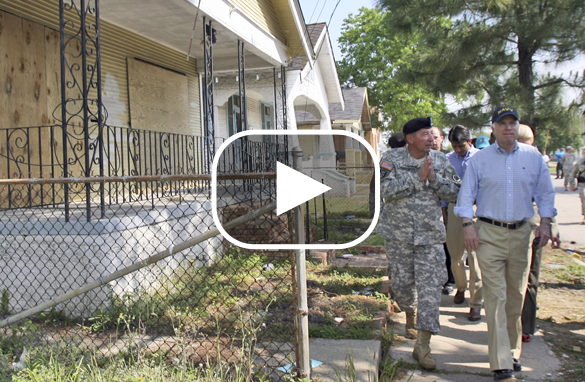 McCain toured the lower 9th ward Thursday, and criticized the Bush administration for its response to Hurricane Katrina. (Getty Images)
(CNN) - John McCain, speaking to supporters at Xavier University Thursday afternoon, blasted all levels of government - including the Bush administration - for the failed response to Hurricane Katrina.
"We know we didn't have the right kind of leadership … where government agencies were getting information from watching cable television rather than have a flow of information," McCain said.
"It was not only a perfect storm as far as its physical impact … it was a perfect storm as far as the federal, state and local governments' inability."
In a strong tone, McCain said "never again will there be a mismanaged natural disaster," later assuring the crowd that "it will never happen again in this country, you have my commitment and my promise."
McCain is currently on a week-long tour of economically struggling areas of the country, which included stops in Alabama, Ohio, Kentucky and Louisiana.
Earlier Thursday he toured New Orleans' lower 9th ward, - among the areas hardest hit by Katrina - with his wife Cindy and Lousiana's GOP Gov. Bobby Jindal. The three walked about 20 minutes through the lower ninth, stopping at a house being rebuilt by about a dozen volunteers from DeutscheBank in New York City.
"I'm proud to be in your company. You're what America's all about," McCain told them.