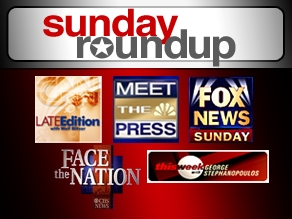 (CNN) - Hillary Clinton's big win in Pennsylvania on Tuesday kept the New York senator's hopes alive as she and fellow candidate Sen. Barack Obama continue to campaign for the next two upcoming primaries in Indiana and North Carolina. With both campaigns still in full swing and no immediate end in sight, the Sunday morning talk shows hashed out the current stats with strategists, surrogates, party leaders, and even one of the candidates, in an effort to answer the question: Who's leading the race for the Democratic nomination?
Indiana Senator Evan Bayh, a backer of Sen. Hillary Clinton, and former Senate Majority Leader Tom Daschle, a supporter of Sen. Barack Obama, stopped by ABC's "This Week" to talk campaign politics. Sen. Bayh made the case for looking at the popular vote instead of the delegate count to determine a frontrunner. "The most important thing to look at is the aggregate popular vote. The pledged delegates are important, but they are just intermediaries representing the people themselves," he said. But Daschle argued that examining only the popular vote leaves out a large segment of the Democratic voting population, the caucuses. "That basically says to all caucus states who don't keep track of the popular vote per se that you don't count," Daschle said.
*******
It was a Senator showdown on CNN's "Late Edition" this week between Clinton supporter Sen. Charles Schumer (D-New York) and Obama backer Sen. Claire McCaskill (D-Missouri). Sen. Schumer interpreted Clinton's Pennsylvania win as a change in the tide. "Hillary Clinton now has the momentum," he said to CNN's Wolf Blitzer. But Sen. McCaskill disputed Schumer's assertions. "If you drill down and look at the superdelegate race, right now, you see where the momentum is," referring to Obama's surge in superdelegates in the past week despite his loss in Pennsylvania.