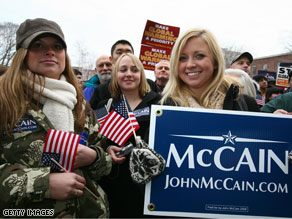 FROM CNN's Jack Cafferty:
If you want to know which way the political winds are blowing, look at the young. Trends in the opinions of the youngest voters are often a barometer of shifting political tides. For the Democrats as we approach the 2008 election, this is great news…for Republicans, not so good. In fact, terrible.
The Pew research Center did a survey of young people between October of last year and March of this year. What they found was that the current generation of young voters who came of age during the George W. Bush years is giving the Democrats a wide advantage in party identification.
58 percent of voters under the age of 30 surveyed during that time identified or leaned toward the democratic party-compared with just 33 percent who identified or leaned toward the Republican party.
To read more and contribute to the Cafferty File discussion click here