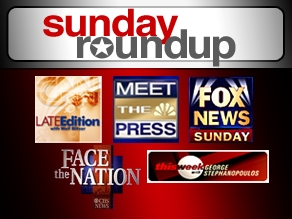 (CNN) - Presidential contenders Barack Obama and Hillary Clinton have not been on the Sunday circuit simultaneously since February 3, two days before the Super Tuesday primaries. Fittingly, today they chose to sit down with two Sunday morning talk show hosts just two days before yet another major big day in the Democratic presidential nomination process, the Indiana and North Carolina primaries.
The rest of the Sunday circuit featured surrogates of the two campaigns to make a final push for their candidate before Tuesday's vote.
(Full roundup after the jump)
On NBC's "Meet the Press" Obama was forced to clarify why he didn't immediately end his relationship with Reverend Wright when the controversy first broke in March. "What really changed was a sense that he was going to double down on the statements that he had made before," Obama said. "That indicated to me that…he did not share my fundamental belief and my fundamental values."
He also took the opportunity to attack Clinton on her recent comments that the US could "obliterate" Iran should they obtain a nuclear weapon and attack Israel. "It's not the language we need right now, and I think it's reflective of George W. Bush," Obama told host Tim Russert.
*********
Senator Clinton was asked to respond to Obama's comments and if she had any regrets. "No, why would I have any regrets?" she said during her town hall meeting with George Stephanopoulos on ABC's "This Week". "Yes, we would have massive retaliation against Iran" should they attack Israel, Clinton said. I don't think they will do that, but I sure want to make it abundantly clear to them that they would face a tremendous cost."
Also during the interview, Clinton admitted that it was "troubling" that a recent poll showed that 60 percent of Americans didn't find her trustworthy. "I know you hear a lot about me. There is a lot out there that…I have no control over."
**********
On the surrogate front, CNN's "Late Edition" featured North Carolina governor Mike Easley, who endorsed Clinton on Tuesday, as well as former presidential candidate and Obama supporter Gov. Bill Richardson. Easley called a recent North Carolina poll which shows Clinton down eight points "very encouraging when you look at just a couple weeks ago she was down 34 points." The New Mexico governor countered with Obama's lead in contests won. "He's won Guam, it's now 31 states to 15 in caucuses."
Easley retorted, "We're not going to win White House by winning Guam."
***********
"Fox News Sunday" had interviews with DNC Chairman Howard Dean, former DNC Chairman and Clinton-turned-Obama supporter Joe Andrew, and Clinton strategist Terry McAuliffe, who also chaired the DNC.