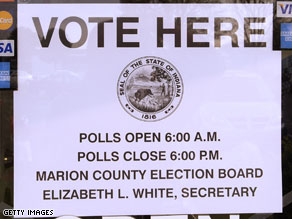 FROM CNN's Jack Cafferty:
Here's something that might surprise you: After a 16-month, often bruising fight between Hillary Clinton and Barack Obama, most Democrats aren't eager for either candidate to drop out of the race. After all the contests and debates, speeches and TV commercials, fliers and phone calls, the Democrats want the suffering to continue.
A new USA Today-Gallup poll finds 60% of Democrats say Clinton and Obama should keep campaigning. Of those who want a speedier resolution, 23% say Clinton should give it up and only 15% say Obama should drop out.
There had been calls for Clinton to get out of the race a while back, but they've quieted down some since her strong performances in Ohio and Pennsylvania. It's looking increasingly unlikely the party will have a nominee until the uncommitted superdelegates weigh in.
To read more and contribute to the Cafferty File discussion click here