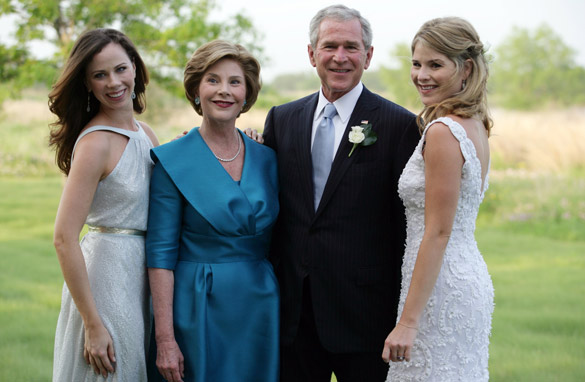 President George Bush and first lady Laura Bush pose with daughters Jenna and Barbara. (White House Photo)

WASHINGTON (CNN) - Against the backdrop of a stunning Texas sunset, near a lake on the Bush family's 1,600-acre ranch, President Bush walked his daughter, Jenna, down the aisle to her groom, the White House said.
Jenna, 26, married Henry Hager, the son of a well-connected Virginia Republican.
"The wedding was spectacular. It was all we could have hoped for," the president said Sunday before boarding Air Force One.
"We're mighty blessed."
Wearing a white silk organza Oscar de la Renta gown, the bride stood with the groom before a beige-colored cross and altar made of Texas limestone.

Read more here