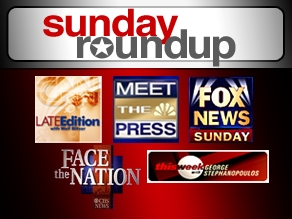 (CNN) - This week's Democratic primaries in North Carolina and Indiana brought disappointing results for the Clinton campaign. Senator Barack Obama handily won North Carolina by 14 points. While Senator Hillary Clinton edged out a win in Indiana, it was by just two points. Many political observers expected she would win handily.
After Tuesday's results, several more superdelegates publicly endorsed Obama. Others have switched their vote from Clinton to the Illinois senator, including former senator and presidential nominee George McGovern.
With all these events in mind, the question of the week remains: Does Hillary Clinton have a chance to win the nomination, and if not, why hasn't she dropped out? The Sunday morning circuit digs deep to find answers.
(Full roundup after the jump)

On CBS' "Face the Nation", former Democratic presidential candidate John Edwards stopped short of calling for Sen. Clinton to drop out of the race, but told host Bob Schieffer "The math is very, very hard for her." He contrasted his own decision to bow out of the race, explaining that he thought "if I got out of the race, it would accelerate the process of one person pulling away. Well, I was obviously dead wrong about that."
***********
Senate Majority Leader Harry Reid stopped by ABC's "This Week" to discuss the race to the White House. He defended Clinton staying in the race, telling ABC's George Stephanopoulos, "I think we have to play this out." Sen. Reid (D-NV) is confident there's plenty of time for the Democrats to finish out the primaries and campaign in the general election. "After that June 3rd date arrives, I think that Obama and Clinton will have a few days to make their case to the uncommitted delegates, and then the decision will be made, and we'll have a five-month general election."
************
"Fox News Sunday" had back-to-back interviews with two top insiders of the Clinton and Obama campaigns: Clinton strategist Howard Wolfson and Obama strategist David Axelrod. "I don't think she wants to impair our chances" of winning the general election, Axelrod told Fox's Chris Wallace. However, Axelrod maintains that "we're coming to the end of the process." Wolfson reiterated Senator Clinton's position that she has no intention of dropping out of the race anytime soon. "She's going to keep going until she secures the nomination or until the nomination is decided in a different direction," Wolfson said.
************
And on CNN's "Late Edition" Maryland Rep. Chris Van Hollen, who chairs the Democratic Congressional Campaign Committee, was asked if thought the race was effectively over. "Obama is clearly the frontrunner here," Van Hollen said. "But until it's finally over, it's not over. And we'll just have to see how this plays out." Congressman Van Hollen has declared himself neutral in this race.