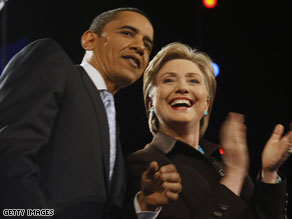 (CNN) - All year long, there has been a debate between change and experience. Barack Obama says he's the candidate of change; Hillary Clinton has stressed her experience.
We asked West Virginia Democrats, which quality is most important to you when looking for a candidate?
Those who said experience voted overwhelmingly for Hillary Clinton, 93 percent to 3 percent. That clearly is not Obama's strong suit, to say the least.
But here is the surprise: Obama and Clinton nearly split those voters who named change as the most important quality, 53 percent for Obama and 45 percent for Clinton. That margin has been much wider in other states.
So it looks like she's made some headway in West Virginia, offering herself as the candidate of change.