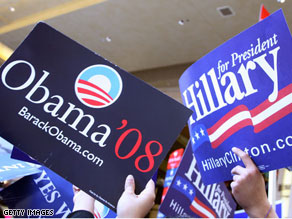 (CNN) - The gender gap, a factor earlier on in the Democratic presidential race, seemed to disappear over the last few weeks. But the gap is certainly back in West Virginia.
In early exit polls, 55 percent of Hillary Clinton's supporters are women, and 45 percent are men.
How about Barack Obama's voters?
Just about the reverse: 57 percent of Obama supporters were men, and 43 percent were women.
So it looks like the gender gap, long a feature of politics between Democrats and Republicans, has established itself in the Democratic primaries.