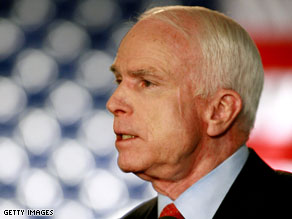 John McCain peered into the future this morning... delivering a speech that looked ahead to what the U.S. and the world would be like in 4 years, after the first term of a McCain presidency.
Some of the highlights: he thinks the Iraq war will be won, Iraq will be a functioning democracy and violence there will be "spasmodic and much reduced." McCain believes the U.S. will have welcomed home most of its troops. He thinks the threat from al Qaeda and the Taliban won't yet be eliminated – even though bin Laden will be captured or killed. It's a pretty bold move to lay out objectives like this – gives critics a lot to measure you against.
In any case, John McCain seems to be one of the few things Republicans have going for them this fall.
To read more and contribute to the Cafferty File discussion click here